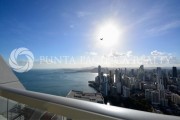 Punta Pacifica Realty recently launched a private marketing program to help link sellers and buyers of luxury properties in Panama. The Trophy Property Collection, the first of its kind in Panama, is designed to connect Panama City's most beautiful properties with Punta Pacifica Realty's select clientele.
Panama City, Panama, September 24, 2015 (Newswire.com) - Punta Pacifica Realty's groundbreaking property marketing program has generated its first big success story. A luxurious three-bedroom penthouse in Trump Ocean Club, one of the first properties enrolled in PPR's exclusive Trophy Property Collection, has sold for $1.59 million to a longstanding PPR client.
The Trophy Property Collection, launched in August, is a unique program designed to connect Panama City's most beautiful properties with Punta Pacifica Realty's select clientele. PPR's team of Panama City real estate experts create a detailed marketing plan for each Trophy Property, including professional videos, a designer staging for showings and special prominence on PPR's digital platforms.
The Trump penthouse was given the white glove treatment and sold to a buyer from North America, who is planning to rent the apartment and then live in it a few years from now. The buyer is an existing PPR property management client who was looking for a second property in Punta Pacifica.
"We're finding many buyers looking to lock in the low prices in Punta Pacifica, which are poised for an expected 10% appreciation as inventory is absorbed and new construction comes on at market values.," said Jeff Barton, PPR's managing director. "The Trophy Property Collection provided a perfect example of matching a buyer with this very special property."
The sold Trump penthouse will remain in the rental market, with a rate of $10,000 per month. The 365-square-meter unit features vast terraces with expansive views of the bay and city. The unit was completely customized by the original owner who bought two units in the Trump during pre-construction.
There are currently 10 properties in PPR's Trophy Property Collection, each priced above $800,000, the program's minimum price. For more information on the Trophy Property Collection, contact our Director of Inside Sales, Laura Soto at +507-6670-8011 or at sales@puntapacificarealty.com
Duncan McGowan is president of Punta Pacifica Realty, a Panama real estate agency focused on Punta Pacifica, the exclusive neighborhood of 18 towers perched on the edge of the Pacific Ocean.
Share: